[Mass-productivity/Small volume/Wide variety]
Is it possible to make volume efficiency with low cost?
Important point is whether a system can respond to many kinds of production style such as small volume with wide variety, mass-production and so on.
Principle of volume efficiency
The easiest method to increase volume efficiency is to increase the number of guns. It is the same theory that increasing the number of spray-men increases volume efficiency. Although increasing the number of guns increases volume efficiency, there are limitations depending on the kind of coating robot. In case of a general balance-arm robot, the limit is mounting with 2 to 4 guns. However, Line Dancer with "ceiling-suspended moving type" function is able to mount 12 guns having a transport-capability of 20kg. Only one robot could increase multi-times volume efficiency. One robot of Line Dancer could manage the same volume as that 12 spray-men can do.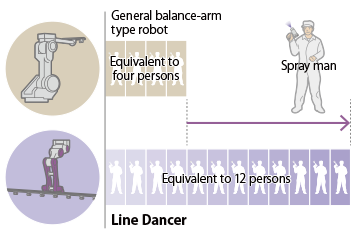 Maximum coating output is about 8,000 pieces per hour
In case of general smart phone cover, the coating capacity of Line Dancer is about 8,000 pieces per hour. In case of conventional mobile phone (folding type), it is more than 10,000 pieces per hour. Furthermore, it is possible to make an operation decreasing the number of guns during model change. That is, it can flexibly manage from small-volume with wide variety to mass-production.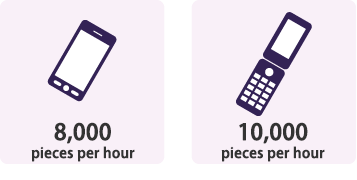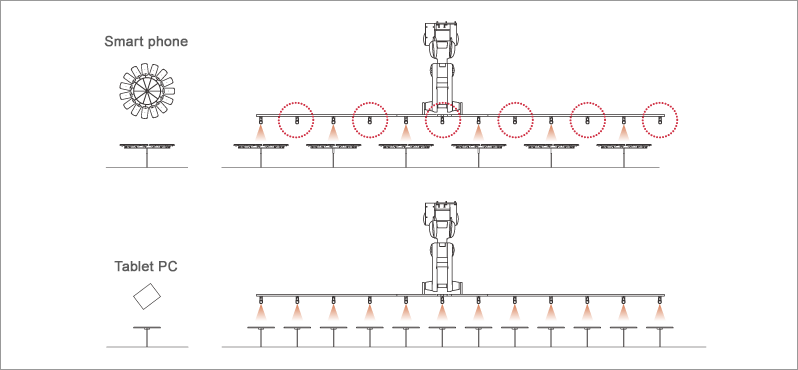 It is much speedier to make a model change, an operation change and a color change.
It is very easy just to press the registered data switches such as Teaching, Condition Setting and so on. Color change is possible within 30 seconds by Color Change System (Option) so that you can start a next model coating very quickly without any stoppage of the operation line. In addition, it is easy to make some systematization such as 3 coatings by 3 robots or 3 coatings by 1 robot in accordance with requirements.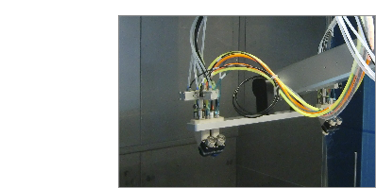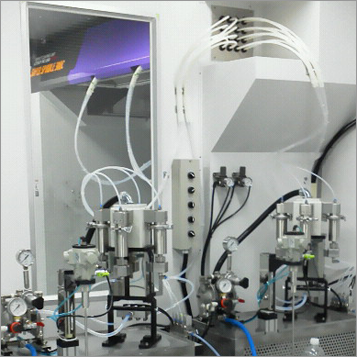 What is Ceiling-suspended moving type robot?

Difference with Balance-arm type robot

DRAGON LINE to realize Mass-production with Low cost

Line Dancer and DRAGON LINE, the latest coating system

Setting accumulation mechanisms (DRAGON LINE) on both sides of Line Dancer makes it possible to generate mass-production by a compact coating system.

Select in accordance with production volume

Coating robot system, SOFTBOY PRO series